Wave RTA – From Public Testing to Final Tasting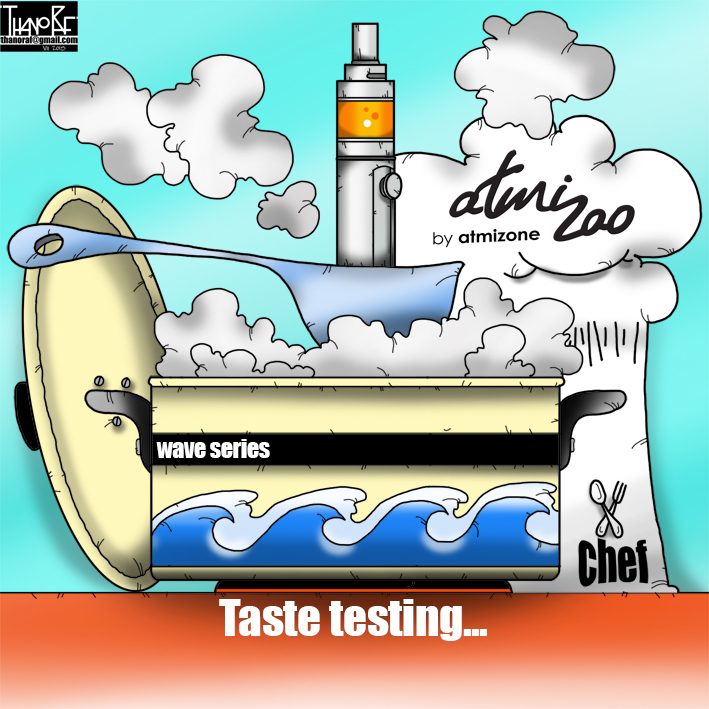 As the Public Testing Period of the Wave is officially over since some days now, this is the right time for all of us to evaluate the results with a clear mind.
This has been a difficult but really interesting process.
As far as the public testing questionnaire is concerned, processing such a big data sample has been quite a burden. Following the pace of incoming feedback that rushed in has also been difficult, since keeping up with multiple open dialogues with testers via email/social media/fora is not an easy interaction.
But all of this was definitely worth every second! The outcome is fruitful in many ways. With the Public Testing period, we have succeeded much more than we had expected.
Expectations from the Public Testing Phase
Summing up from a previous blog post, the public testing version of the Wave has been presented as a fully functional device, actually working great. The design is the result of Atmizone's endeavour after the improvements from our team of testers. So it was not a beta device, with uncertain performance. All of this has already been explained thoroughly during the preparation of the public testing phase.
What we had been expecting from this procedure is:
1.The details
To spot some small but important details that might turn a great working atomiser into an excellent working atomiser.
This could mean small improvements, alternative parts or adjusted functions according to custom vaping needs, or even some add-ons.
2.Missing points
To find out blur areas of design/support/marketing that we might have missed.
The fact that the Wave's design was very different from anything out there made this field even more important.
The Verdict of the Public Testing Phase
So, we have all been anxious about the results of the public testing process.
Has the Wave indeed proved to be a great working atomiser? Does it have any flaws? Does it need changes/improvements?
Which type of vaper should purchase the Wave?
These are only some of many questions to be answered.
Straight to two main points.
1. The Wave is embraced by the majority of public testers.
It is overall rated with at least a 5 out of 7 (on a scale from [1-not at all satisfied] to [7-extremely satisfied]) by 56% of testers.
It is regarded as an innovative atomiser which brings improvements and better solutions to the vaping community with a rating of at least 5 out of 7 (on a scale from [1-not at all innovative] to [7-extremely innovative]) by an impressive 75% of testers.
The hit of vapour it produces is rated with at least a 5 out of 7 by 58% of testers.
The quantity of vapour it produces is rated with at least a 5 out of 7 by 57% of testers.
The taste of of vapour it produces is rated with at least a 5 out of 7 by a massive 78% of testers.
2. The Wave is not for everyone, no matter how strange this might sound.

The Wave is a completely different RTA from what you already know. This means that no one is experienced enough to get familiar with it without including a learning curve in their time with the Wave. Experienced vapers who think that they don't need a manual will definitely get frustrated. Vapers that will do things as they are used to, will surely have trouble with the Wave. Fresh vapers that have little experience but will go by the book, will be pleasantly surprised by the Wave. With the Wave, you can be as different as you want to be. If you don't want to try something different, the Wave is just not for you.
If you like carto-style rebuildables, you will probably love the Wave. On the contrary, if you have big fingers, or you are not good at small things, the Wave might be too fiddly for you. If you like multiple controlling features of air and liquid flow and want to invest on balancing them, you will embrace these features of the Wave, as most of the public testers did (57% of testers have rated its Liquid Flow Control System with at least a 5 out 7, 81% of testers have rated its Air Flow Control System with at least a 5 out 7, 92% of testers have rated its real time deck access feature with at least a 5 out 7). On the contrary, if you prefer plug-n-play devices and want to vape decently without doing much, the Wave won't suit you. If you are impatient or don't have much of spare time to get acquainted with it and try your first 10-15 builds, the Wave won't cover your needs.
Doesn't it need any improvements before official release? Is the Wave that perfect? What else has the Public Testing procedure contributed to?
As already stated regarding the Wave, we have no ambition to get the nobel prize or claim for inventing the vaping wheel. The Wave is far from being the perfect vaping device. There are always improvements to be made. Most important thing, public testers have given us a couple of ideas for alternatives, different approaches and add-ons. We are already working on most of them and will be presenting some of those shortly, always having early adopters in our minds.
These are not corrections of faulty design though. Given that, the final suggestions will be presented as different options of parts or add-ons, as soon as they are ready. For example, there are thoughts for an alternative Base Set that will provide another option for the coil-to-negative pole connection. We are planning an add-on part against occasional liquidation of vapour coming up to the drip tip. Also, we have embraced an alternative refilling way of the current Wave tank, indicated by some testers (bottom side refilling) with no need of auxiliary bottle, which will be presented soon.
Last but not least, we now have in our hands a final product to present. Rethinking what the idea of a final and complete product is, it definitely includes defining its proper target group. After the public testing period, we know better what the audience of the Wave should be. Targeting the retail of the Wave will prove to be beneficial both for us and for the vapers – who of course want to know in advance if the Wave is suitable for them. Also, a product can't be complete without proper support and after sales service. We now know better how to deal with the support of the Wave, having enriched our support section with lots of material deriving from the testers' feedback. It is more fair to do this through a testing period, instead of using early adopters as guinea pigs after having released a final product.
During the upcoming period, we will have the chance to discuss more on certain hot issues of the Wave Public Testing phase. All important subjects will be brought forward via new blog posts, so we will be happy to see the same interaction again.
Until then, we should thank all of you public testers for your crucial contribution. Together with you, we proudly bring the Wave RTA official device to the vaping community on Wednesday, October 7th, 16.00 GMT.
**An export of the Wave RTA Public Testing Questionnaire with questions/grouped responses with ratings per question can be found here**