Tripod RTA stepping in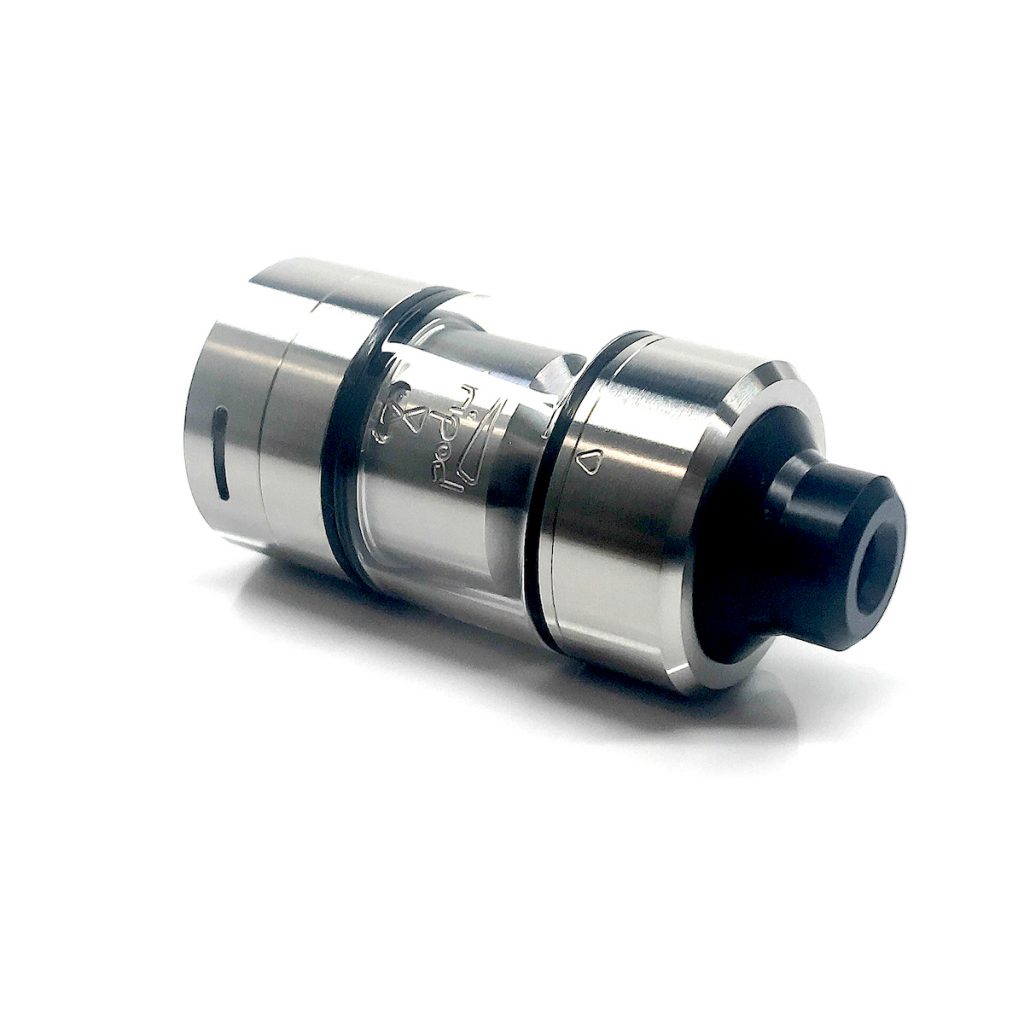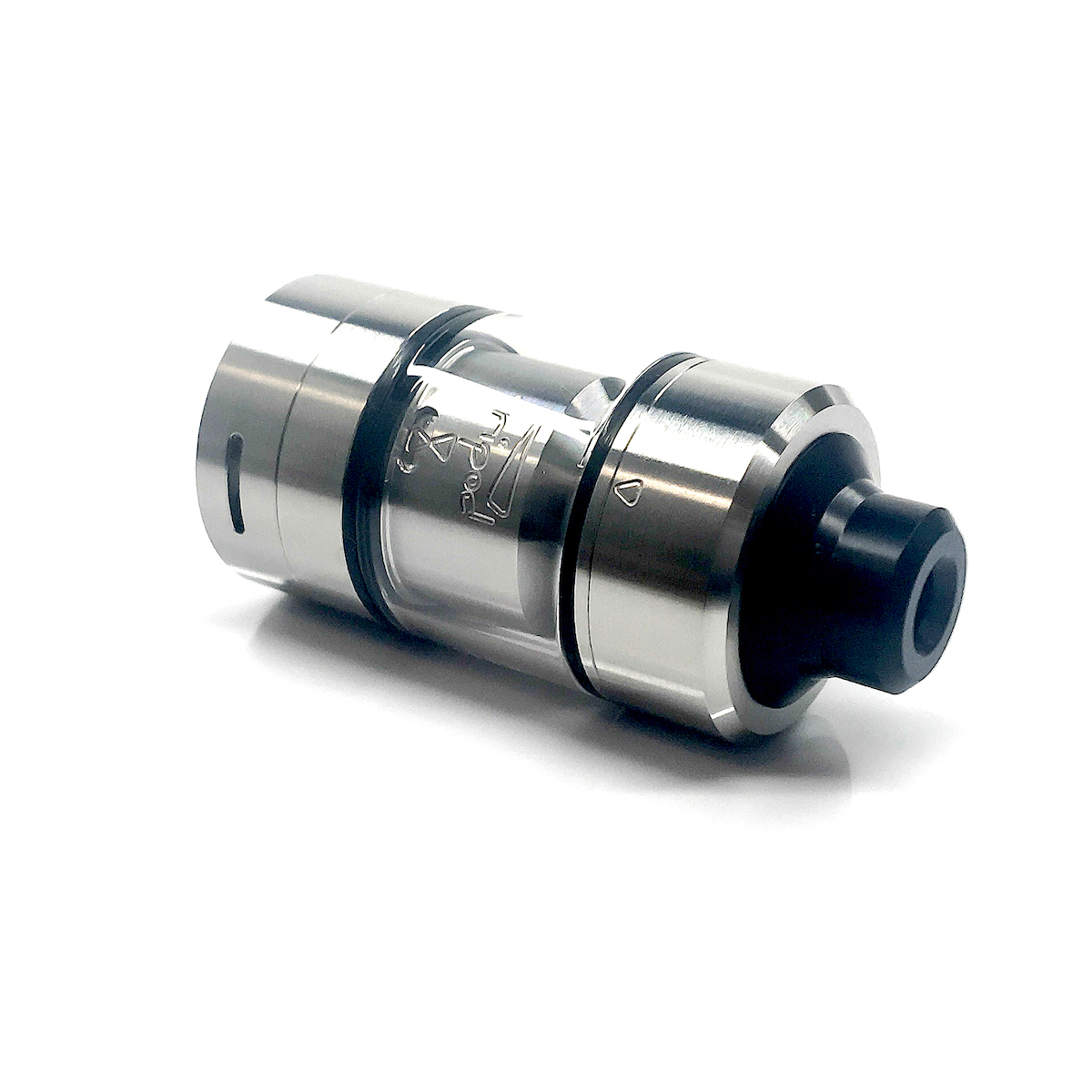 Our last approach to single-coil RTA design has been the Keras, three full years ago. With so many RTAs out there, it was very hard to conceive anything that would really be one step ahead, presenting a true improvement in several aspects of RTA design and function. We needed to end up with something that
a. would have top vaping performance, taking the best out of a single-coil RTA
b. would be versatile enough out of the box, in order to satisfy a wide variety of vaping profiles
c. would set a new paradigm in the field of ergonomics, optimising all basic vaping controls / features / functions that an RTA could offer
Basing on the above three main pillars of evolution, we have proudly delivered the Tripod RTA. The device incorporates some successful details of previous Atmizone projects, including the VapeShell, the Keras and the Creek, at the same time introducing some quite interesting new features.
The Deck
The deck of the Tripod is targeted for single coil setups with design details aiming to facilitate and improve rebuilding process as much as possible. Focusing on some of them, you can see high precision large pan head phillips post screws, conveniently placed rails to capture wire either between rail and screw head / body or around screw body (depending on wire D), cut – outs on outer deck rim for easier rebuilding, cut – outs on inner deck rim plus cotton wells to help proper cotton placement and juice distribution along cotton body, sufficient liquid intake slots on deck sides ( approx. 4.0mm x 2.0mm). The Tripod deck can literally host any size of single coil build, from classic small sized ones up to larger exotic coils.
Versatility at its best
With many air flow options out the box, the adjustable chamber and chimney feature and some other goodies, the Tripod is as versatile as it gets in order to satisfy a very wide range of vaping styles. You may tune air flow via four pin options, each one with air hole D=1.0mm/1.2mm/ 1.5mm/1.8mm pinned inside a D=4.0mm nest. You may also regulate more "airy" flow via the AFCS Ring, adjusting from zero to D=4.0mm. With the Tripod, we introduce the Chamber and Chimney Reducer assembly. It consists of two parts, that are sandwiching the upper part of the Chimney. When assembled, the C&C Reducer forms a vaporization chamber with lower volume (approx. 5.3mm chamber height) and a chimney with 3.0mm inner diameter, focusing on flavour oriented setups rather than vapour production. When removed, the chamber offers approx. 9.0mm coiling height and the chimney gets to approx. 5.3mm inner diameter, with proper geometry to get all the clouds you want. The C&C Reducer actually offers you the potential of two different chamber and chimney geometries, thus two different single coil RTAs. Another interesting point is the custom drip tip that comes with the device. This is a two-parts assembly as well, with its two parts sandwiching the Top Cap to ensure extra stability when removing top cap to refill. The drip tip is easily removable to let you use your own 510 drip tip. Add to the above an upcoming extended capacity kit (3.5ml from stock 2.0ml) and you will have a good idea of Tripod's potential for versatility.
Optimising ergonomics
We have based Tripod's ergonomics on the concept of a thread-less mechanism with twist and pull / push actions in order to design and manufacture high precision parts that make vaping with an RTA so much easier. Instant access to deck can't get any simpler and quicker. You just twist, align the small triangles that are located on the sides of chimney and deck and then pull in order to access to your deck super quickly, any time, even with a full tank. Same with refilling, as good old screw-on threaded cap is no longer here. Simply align triangle on side of the top cap with the dot on the rim right below and pull up to refill through the large liquid slots. Don't need to worry if you find it hard to spot dots and triangles: If you twist and pull gently you will definitely get it when you reach to the aligned – unlocking point of each mechanism. Precisely machined CNC parts, custom designed and produced silicon gaskets and much attention to detail have been necessary to make Tripod's ergonomics possible to realise.
Features and Specs
– Air flow tuning via 4 pin options with air hole D=1.0mm/1.2mm/ 1.5mm/1.8mm pinned inside a D=4.0mm nest or via an AFCS Ring adjusting from zero to D=4.0mm.
– M2.5mm pan head phillips post screws.
– Two parts screw-in custom Drip Tip / inner D=4.0mm, can also host any 510 drip tip.
– 10.0mm post-to-post space, ~6.6mm post-to-post net space , ~5.8mm coil space.
– Tank capacity 2ml.
– Max. net coiling height ~9.0mm (C & C Reducer out) / ~5.3mm (C & C Reducer in)
– Chimney top inner D ~5.2mm (C & C Reducer out) / ~3.0mm (C & C Reducer in)
– Height 510 excl., 39mm [Drip Tip off] / 47.0mm [Drip Tip on ] / Weight ~56g
Summing Up
With the Tripod we have tried to improve on many aspects of RTA design and function, basing on previous successful Atmizone projects but also incorporating really interesting new features and ergonomics. To achieve this we had to invest a lot in design and RnD time and pay extra attention to each and every detail, as the Tripod is an assembly of high precision CNC parts and demanding custom gaskets / mould produced parts. It has been a demanding journey which proudly comes to an end. Here comes the Tripod RTA!
The Release
The Tripod was first introduced to public with a limited pre-release via our facebook group some days ago. After this, we presented the device and gave everyone the opportunity for access to a small batch of devices during HoV2019 in Stuttgart, at our modder's gallery stand.
The Tripod will be making its official debut on Tuesday June 11th 2019 through atmizoo.com and our resellers network worldwide. There will be no fixed time release, instead we will be working in the lab and keep preparing devices. So keep an eye on our site as stock will be replenished daily.