Infected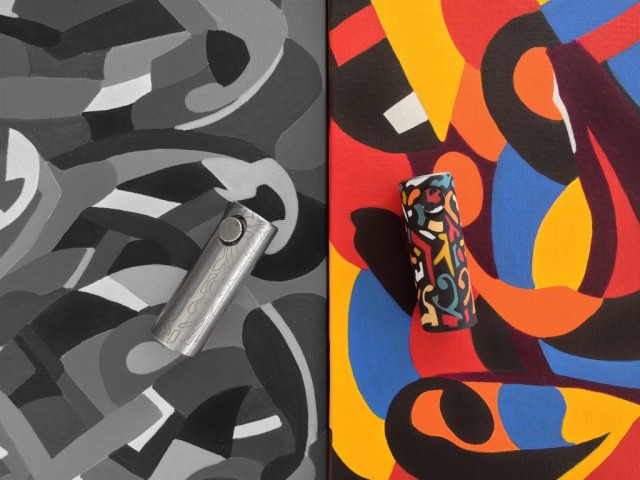 We have been familiar with Yota's peculiar forms, colours and canvas stories since the early days of Atmizone. An active visual artist and avid vaper, Yota was among the first to discover Atmizone's devices and appreciate them for their simple, unobtrusive forms. We always saw an analogy between our own design work and the purposeful way Yota fills up the canvas: Those simple, primitive forms and colours are more than just a style – they form a narrative. Look closely and you might be able to see trees, animals and people, a world of shapes arranged to make up a meaningful story. Every canvas tells a different one.
When Yota first brought a colourful Dingo to our lab a few months ago, we were puzzled, some of us almost annoyed. This first reaction and her nickname ("the Worm") were exactly what we needed to start calling her Dingo "the infected one". Eventually, her work sparked lots of internal debates about "design vs art" and "form vs function". It took us a while, but soon, a not-so-obvious point became clear. An original work of design and a work of art have something very important in common, after all:
A design, even if it's made in millions, used every day, admired, defaced, or even copied, carries with it the same emotional, cultural and deeply personal weight as a unique work of art.
An original design, as much as a unique work of art, is a stamp of its maker. Design items can be appreciated as much emotionally as functionally, in ways unique to every individual. In this sense, design is art wrapped within an end-use purpose.
Industrial designers often stress the importance of the functional over the aesthetic elements of a design. "What works good is better than what looks good, because what works good lasts". On the other hand, "the aesthetic qualities of a product are essential to its usefulness, since products have an effect on people and their well-being". There is no paradox, here. Well-executed products should fulfil their purpose in an understandable, intuitive and unobtrusive manner and be aesthetically pleasing at the same time. A simple and uncluttered product is aesthetically pleasing when used.
In contrast to a work of the fine arts, a design cannot exist without an end-use. Industrial objects succeed or perish based on their functionality and ease-of-replication, while a work of art is a medium of expression that has emotional and symbolic value, which is subjective. However, the designer can be said to descend from the artist in the same way that the engineer descends from the scientist: The designer's personal stamp shapes a design solution as much as the technical factors and constraints. In the end, a design reflects about its maker as much as a work of art tells about the artist.
Symbols of this interesting dialogue between the fine arts and industrial design can be found very often, for example, in the use of industrial artifacts to create works of art, or more obviously, in the use of industrial design items as the canvas for artistic expression. In the latter case, a deformed product that maintains its functionality stands to remind us exactly that industrial design and art are both vehicles of expression that trigger emotion.
The Infected Series
Yota's original "infected" Dingo is hand-drawn using multiple layers of hardened acrylic paint and then finished with a protective layer. A handful of these hand-drawn devices were made by Yota in the second half of 2013 and gifted to Atmizone members for personal use. Some of these Dingos were monochrome adaptations of the original "infected" one, while a few were created by painting only the outlines of the original's shapes.
Eventually, these devices were withdrawn from use and kept away for display, for obvious reasons. To replace them, Yota made a limited run of laser-engraved adaptations of the hand-drawn outline-only versions. In order to keep their cost low enough and make them suitable for everyday use, a machine-based engraving process was used.
In total, less than 40 of these machine-engraved "Infected Series" Dingos have been produced so far, with only a handful to follow*. And as you might have guessed so far, most of them will be made available by Yota soon, so stay tuned**!
*around 60 in total.
**finally available here