Goodbye 2017, hello Ring Project!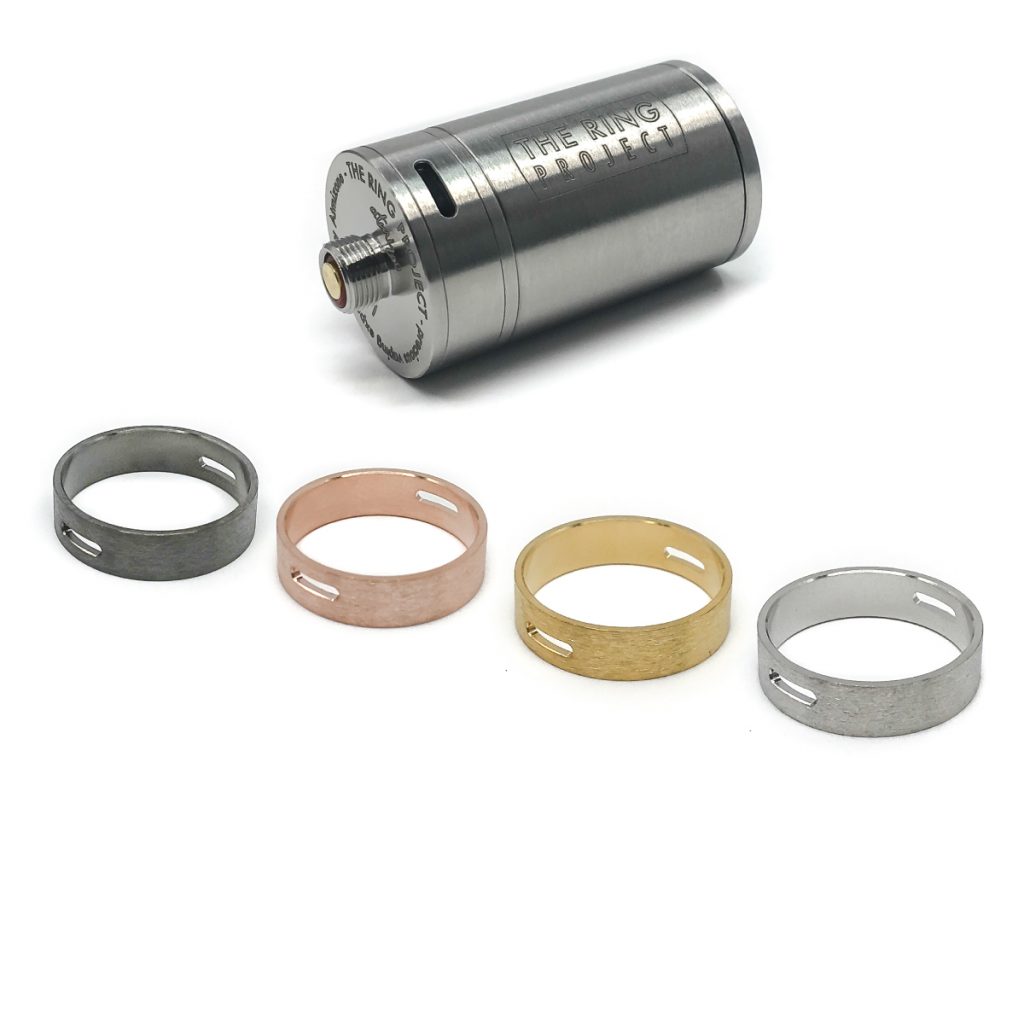 Vape tanks are understated. We thought this is not fair, so we decided to combine the keyword phrases "vape tank", "factory coils" and "high-end elegance", in one new project. Our basic principles of simplicity in function and design remain intact, only that, this project is dedicated to sub-ohm vaping.
We are proud to welcome The Ring Project.
Time for atmizoo factory coils
Yes, factory coils cannot reach the high standards of your own builts. But again, we strongly believe there is always the time and the audience for good quality factory coils.
Atmizone has been eyeing the factory coils since the Keras MTA, a multi-tank concept which can combine the options of an MTL oriented rebuildable deck and some of the most satisfying factory coils out there.
Keeping it low and simple, we have designed our own factory coils. Size has been kept small, to give space in favour of higher liquid capacity. Inside you will find three layers of pressed organic cotton and Kanthal wire. Nothing fancy and innovative here, as we have utilised some simple and already tested design principles of the vaping industry. They are based on the successful common type of "Bottom Vertical Coil" technology and make a great choice for direct to lung sub-ohm vaping. Keeping quality of materials high, makes the best out of these coils and improves performance. For a start, Atmizoo factory coils will be available in two versions, 0.3Ohm and 0.8Ohm / Kanthal wired.
A touch of jewellery elegance
In addition to the above, we have incorporated some accents of precious metal plating, for a touch of high class elegance, close to that of jewellery. Out of the box, you have one extra air flow control ring with precious metal plating of your choice, additional to the one already installed on the device. While the air flow ring of the device has the same finish with the rest of the device (brushed matte SS-M or sand blasted ice matte SS-IM), you can choose among four luxurious metal plating options for the extra afc ring: 24K classic gold, rose gold, 18K classic platinum and a stunning graphite-like platinum black.
This is how Atmizone has mixed minimal aesthetics with high-class customization.
More features
Getting to the rest features of the Ring Project, there are some more points to note.
– An amazingly accurate air flow control, from total zero draw to a max of D=4mm (coil centre air hole diameter)
– The Guard, a small part which is installed in the chimney of the Ring Project, between the coil and the drip tip. The Guard is made from PEEK thermoplastic polymer and helps in two ways: greatly reduces spit back, plus increases turbulence of vapour
– gold plated positive pole
– 316 food-grade SS metal parts, PEEK thermoplastic polymer electric insulators
– 2.6ml (non-TPD version) / 2.0ml (upcoming TPD version)
The function
The Ring Project is a typical bottom refill vape tank. You have to turn it upside down, grab it from the rim of the top cap and unscrew the base. This will separate the base section, with the coil on top, from the tank section. Refilling and coil replacement require this first step and go from there. You may top up the tank section with e-liquid, by holding it upside down and adding liquid to the empty space between the walls. Coil replacement is easy, if you just unscrew the coil from the base and screw the new one. After some priming it is ready to vape.
The Release
The Ring Project makes its debut for the Western World this Saturday, while already released in the Asian market since this autumn, via our exclusive distributor NickVape (Shishi Langda Trading Co., Ltd). The decision for two releases has to do with the different trending vaping profiles, since factory coils are more popular around vapers in PRC and more Asian countries.
Starting this Saturday Jan 6th 2018, you may find The Ring Project in our shop section and also via our official network of resellers. What's more interesting: Price of the first limited batch will be discounted, so don't miss this release!