Billet Box, meet the VapeShell!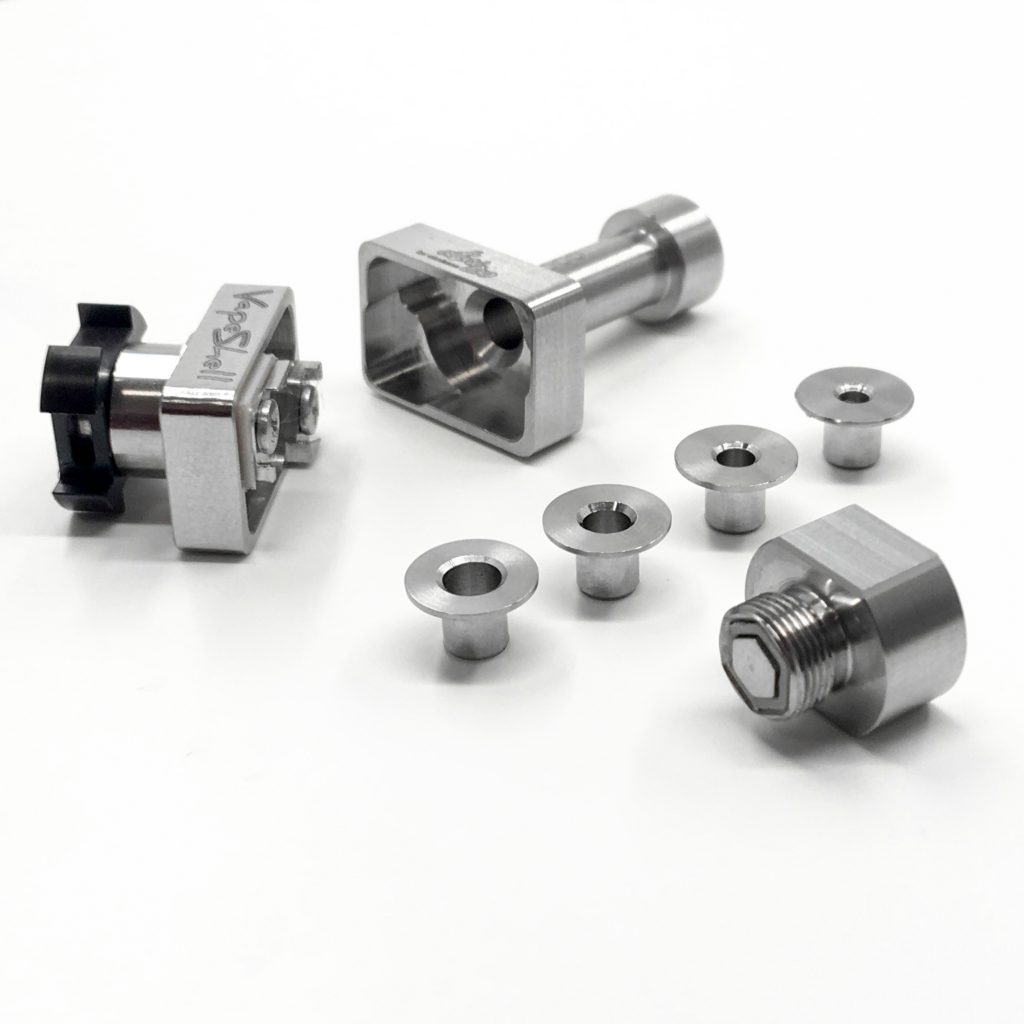 We have been following Billet Box news and updates since the very beginning, late 2012. It came in at a time when full-mech mods where prevailing and you could only see tubes around. Boxes were considered "big" back then, and electronic meant "chip, low quality with minimum power". The Billet box is an iconic device which has been pointing toward the future since its release. Compact, classy, timeless, a total game changer, not only did it survive the massive infestation of regulated boxes, but also thrived and evolved. Here in Atmizone, we have been intrigued by the evolution of the device, the bridges choices, the incorporation of DNA boards and the rebuilding potential that this brought along. So we have been intending to fiddle with the "RBA approach via BB" for quite some time now. Better late than never, we are proud to present our little something to the Billet Box family.
VapeShell in a Nutshell
Meet the VapeShell, Atmizone's RBA bridge concept for Billet Box rev4 Boro tank and compatible tank systems. The VapeShell gets the most out of Billet Box's unique tank shape, taking advantage of the form of its host. Unlike other approaches, the deck and chamber are developed horizontally rather than vertically, since the VapeShell's main body is shaped as a rectangular box. This allows a surprisingly large deck, able to host many different approaches of one-coil rebuilding, still retaining high tank capacity. With four Air Flow Pin choices to reduce air flow, an AFC ring and its special design, the VapeShell is suitable for a wide range of vaping profiles, from MTL to DTL. What's more? An auxilary 510 base for testing, rebuilding, dry-burning or other purposes.
Features and Specs
– Air flow tuning via four Air Flow Pins, D2.0/2.5/3.0/3.5mm and
no pin air flow D4.0mm. Air flow fine adjustment with AFC Ring.
– M2.5mm pan head phillips post screws.
– 12.0mm post-to-post length, 10.2mm post-to-post net space, 8.8mm net coiling space.
– Two 2.5mm liquid intake holes at the bottom of the deck.
– Max. net coiling height in the chamber ~5.5mm.
– Max. Boro liquid capacity 4ml, recommended ~3.5ml
Summing Up
With the VapeShell, Atmizone has tried to offer a high-standard RBA bridge for the Billet, satisfying a wide range of vaping profiles. The device fits in with Atmizoo family of products, utilising high quality materials, abiding with international product regulations and paying attention to details as diligently as possible. This RBA takes advantage of many familiar elements of basic atomizer design, incorporated in an unfamiliar shape and form. Just think of it though: On second thought, a box fits better inside a box!
The Release
Starting this week, VapeShell will be made available via our e-shop and our official network of resellers. As with all our products, we follow the principle of first ordered – first served, so no pre-ordering or listing here. The release will be arranged at a fixed date and time. As demand is already high and inquiries are many, we will do our best with order processing so as not to delay the dispatch of any order placed. For this reason, numbers made available daily will be regulated accordingly, to ensure our usual standards of quick delivery.
Billet Box fam, welcome the VapeShell!