Atmizone 3rd Anniversary – Presenting the Roller 3 Special Edition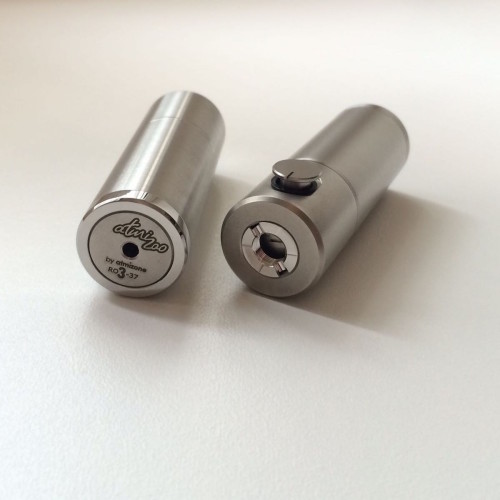 Team Atmizone is already three years old. It 's been three full years since everything started.
We couldn't have imagined we would reach that far then.
There was an amateur rock band back in 2011. When Jimmy came in that Sunday afternoon, to be interviewed as the new guitarist, Tasos, the keyboardist, saw him holding an e-cig. Jimmy had just quit smoking.
Jimmy stayed in the band after all, and a couple of months later Tasos saw him holding what seemed to be more like a lethal weapon: a primitive mod.
Initial jokes were followed by technical explanations. Jimmy is a professional electrical engineer and Tasos a professional civil engineer. Apart from speaking a similar technical language, they also discovered that they share common passion for creativity, lust for evolution, and, eventually love for vaping. Within the following couple of months, things became more serious and decisive. Manos, Tasos' brother and electrical engineer too, joined the endeavour at that time, contributing with his programming skills to the creation of our website, but also with bright ideas as far as the branding of the new company was concerned. The team of three was gradually proving to have a lot to give to the common purpose, combining professional knowledge of its individuals with personal skills and qualifications in an effective blend. This way, the basic structural needs of this new startup were fulfilled and Team Atmizone officially became active on March, 2012.
Every startup has its problems and ours couldn't have been an exception. Lack of experience had been the main issue. Defining standard policies and procedures are some other problems we faced back then. Add to those our common tendency for perfectionism and desire to publish something with very different standards than the ones set by the infant industry at that time. Moreover, our pioneering functional design approach that takes community feedback seriously into account.
Overcoming all obstacles, the Roller, our first telescopic mechanical mod, was finally released late summer of 2012. Atmizone's first project became officially public. The Roller, which has been custom-built from the ground up, has been the result of dedicated team work and exhausting testing. All parts, down to the smallest spring, have been designed and manufactured specifically for use with the mod. Our work with the Roller and the relative policies followed, regarding marketing, support and customer service, is what started to create a recognisable brand name for Atmizone among vapers. The Roller has set a solid ground for us and a paradigm for the fellow industry. It is our first born child, for long a synonym for Atmizone, and still an example of our interactive design. Although three years old, it has not yet become outdated, remaining a classic.
Incorporating quite some improvements and innovations over time, the Roller is the best symbol for us to celebrate our 3rd Anniversary. We are proud to present you an anniversary special edition of the Roller, the Roller 3 SE. Having an HP-Edition switch and rhodium-plated spring and connector, the Roller 3 SE in fact is an upgraded Roller version, available in two-tone combos. It will certainly be appealing to collectors, as it is a limited batch of less than 80 devices in total.
The public release of the Roller 3 SE will be announced shortly. Prior to the public release, the Roller 3 SE will be available to our returning customers, all those who have supported us during these three years, having purchased at least one device from us.
Starting date of availability for returning customers, Friday, March 13th, 2015.
Happy 3rd Anniversary Atmizone and thank you all for your support over these three wonderful years!